Home » Cuba, latin jazz, live jazz, Panama, pop latino, Puerto Rico, rumba, Salsa, Son
Salsa jazz: Michael Viñas, il basso del Caribe urbano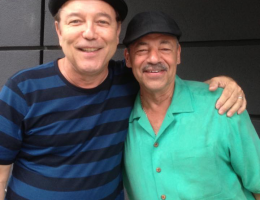 Nel numero di giugno 2019 di  Musica Jazz  il bassista Michael Viñas ripercorre la sua lunga carriera nel mondo del latin jazz, della salsa con Rubén Blades (a sinistra nella foto di apertura) e il mitico gruppo Seis del Solar. Tra l'altro Blades ha considerato eccellente l'intervista sul prestigioso mensile italiano e l'ha postato sulla sua pagina ufficiale. Di seguito pubblichiamo una serie di foto di Viñas. Full interview in English.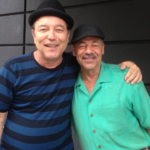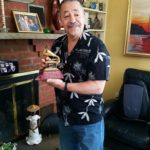 Il bassista, nato a New York, da genitori di origini caraibiche è cresciuto nel Bronx e ha sviluppato la carriera artistica  con grandi protagonisti della salsa jazz come Tito Puente, Dave Valentin, Ricardo Marrero, Charlie Palmieri ma gran parte della sua notorietà tra gli amanti delle sonorità Latin la deve al cantante-compositore panamense Rubén Blades, con il quale ha suonato e inciso i suoi successi più importanti di «salsa narrativa».
****************************
SPECIALE/ Qui di seguito l'intervista completa tradotta in inglese per il pubblico internazionale.
Michael Viñas
The bass player of the Urban Caribe. 
By Gian Franco Grilli
Translation: Amanda Barbosa (June 2019, MUSICA JAZZ, The Italian Jazz Magazine published since 1945) 
Born and raised in the Bronx with parents of Caribbean origins, he attended the Latin environment of the barrio, absorbing what was beautiful and ugly in the fifties and sixties. From a very young age he was attracted by the Cuban and Portorican sounds, and so much to want to study meticulously the most important musical expressions that animated the New York Caribe and to become one of the brightest salsa and Latin jazz bassists and composers from the Seventies onwards.
He worked in fact with great protagonists of jazz salsa like Tito Puente, Dave Valentín, Ricardo Marrero and Charlie Palmieri, but most of his fame among lovers of the genre came from the Panamanian singer-composer Rubén Blades, with whom he played and recorded his own most important successes of "narrative salsa". After forty-one years of teaching, Michael (or Mike) Viñas could be a pensioner, but he decided to go on with the music because he put it at the center of his life for about sixty years, although he has not yet signed a leader's record. He is a very calm man, who does not stand out to appear, as was also the case on stage.
It seemed right to illustrate an important phase of the jazzed Latin music and of the salsa just by those who were protagonists of that phenomenon. So we caught him on the fly during his short tour in Sicily for the recording of some of his compositions on the forthcoming Guna Band CD entitled "Yoruba Project, Onareo".
Knowing that you were returning to Italy more or less when Rubén Blades was in Europe for a series of concerts, I immediately thought of your reunion with the "poet of salsa". Instead you are in Sicily. Why?
We are recording some songs, a couple also of my composition (Michael's Cha e Room 238), in the cd of the Sicilian percussionist Sergio «Guna» Cammalleri. And we also held some concerts in Palermo with his Guna Band. If you are interested in Rubén Blades, we can talk later.
I understand. I know that the Sergio «Guna» Cammalleri record received also the contribution of another great colleague of yours, the Cuban bass player Carlos Del Puerto, founder with Chucho Valdés of the legendaries Irakere. Quite right?
Exact. Del Puerto, which I personally don't know in person, but I appreciate as a great musician and pillar of modern Cuban music, has recorded my song in this record production and, jokingly, I have told "Guna" that this had caused me some jealousy!
Let's stop then in Cuba, an important cradle of Latin jazz and of the forms that have contributed to the development of the phenomenon of the salsa, in which you excelled very much. I would like to ask you if the strong Cuban bass school was important for you.I was influenced, like so many other colleagues, especially Israel López «Cachao», an extraordinary musician which began in the thirties to play a difficult and tiring instrument like the double bass and did it for about seventy years. You know better than me that he was an important author of danzón, of mambo, of son, of cha cha cha and memorable descargas. In 2018 he would have celebrated the centenary.
But it is good to remember that, despite he had been a significant innovator of Cuban music, also influencing in the Panamerican one, in the Eighties Cachao was almost unknown among Cuban expatriates in the United States, where among other things he had exiled himself and earned money to live playing in private parties and weddings in Florida. So Cachao was your point of reference?
Cachao was fundamental but there were other musicians that I admired so much. In Latin music I appreciate Roberto «Bobby» Rodríguez (not to be confused with the namesake flautist), who played with the orchestraof Machito and recorded with Dizzy Gillespie and Cal Tjader; then Bobby Valentín, labeled as "the King of Bass". On the jazz side and funk I would say Jaco Pastorius and Marcus Miller, but I would also mention the versatile among my favorites, Lincoln Goines, with whom I hadthe pleasure of playing and that among other things is twice my colleague, in the sense that he is also a teacher, great, at the Berklee in Boston. 
Before talking about the "educational" aspect of your career, let's go back at your very first steps into the music. With what instrument?
Good question. My maternal grandfather, Puerto Rican, surname Arroyo, bought a guitar to my older brother and started to give him simple lessons when I was six or seven years old. I was very curious and watched everything. Then every now and then I secretly opened the case of the guitar because I wanted to perpetuate the magic of those moments, of thoseropes, repeating the exercises that his grandfather had taughtto my brother. When, in the family, they realized of my interest, my grandfather taught me traditional music, Puerto Rican music, like "aguinaldo", with his numerous variants, and from there on forward the music has become my great passion, the center of my life.  
About aguinaldo: since it is mainly Christmas music of the rural tradition of Puerto Rico in the festivals of Parranda, in New York I imagine that this form was extended to the urban form, to which Willie Colón among other things will dedicate two albums, "Asaltos Navideños". They entered in those repertoires then also of the versions of aguinaldo-guaracha, of aguinaldo-plena and so on.
Excellent observation! Christmas is a heartfelt feast by Puerto Ricans and these ritual festivals, which we call parrandas, they become evenings of great joy where at the same time we seek divine protection. Of course, the variants you mentioned were performed, and others, a intertwining of religious and pagan styles. That would be too long to explain indeed: so I would go back to telling you about my first steps in music, where I started the percussion. One of my maternal uncles bought a couple of timbales one day. He played with a group, not very important, that imitated the style of Tito Rodríguez and of the "timbalero" Tito Puente. So when nobody was looking at me, I would take the chopsticks and I was rhythmic on those drums. One day my uncle discovered me and instead of hitting me, as I feared, he told me to continue, encouraging me to continue this adventure with percussion. 
With a teacher? Or self-taught? I guess you've studied the fundamental "baqueteo", the right shots on the two drums, the combinations of the sounds of the two drum and hand drums, the cencerro, the cajita china, the way to wear the rhythm of the clave. That is the basic technique to accompany bolero and son montuno.
Since you know that language, you also know that it is the quintessence of the Latin drums. I studied almost everything by myself, exercised with variations of the fundamental Latin beat, but not in depth because in that particular case I dedicated myself to learning the solos by Tito Rodríguez or Puente. However I trained myself by putting into practice what since I was a child I saw live music evenings organized by my uncles and where it was they exhibited large orchestras like those of Puente and Machito. As a teenager I studied percussion classics, also doing the drummer in the school jazz group. Later I attended university. 
Do you mean university-level music studies?
Yes, I continued my musical studies despite my mother's contrary opinion that musicians go hungry, that it is not a profitable job … But in the end she accepted my choice to graduate to become a music teacher and teach in schools. That was it, I can also keep my business up and running with various musical groups. At university time I played in the Latin jazz group of pianist Charlie Palmieri and I can say that I learned a lot from him. Instead at the music school I met the great flutist Dave Valentin, with whom I worked a lot, and it was at that time that I started again to study classical guitar, composition and arrangement.  
I seem to perceive the confusion of the barrio (the intertwining and the competition between different realities and cultures despite the common language) that could distract you, a young man during years of change, like the early 1960s. Then I ask you: your musical debut happened with salsa or Latin jazz?
In fact the barrio was quite chaotic. In 1963, at thirteen, I started playing in a small group doing rock & roll, music of the Beatles, pop etcetera. But my true debut was with the Latin music band of Ricardo Marrero, a boy that had attended with me the High School Of Music and Art of New York. We played percussion, he was also a vibraphonist and keyboard player and we have shared experiences both in Dave Valentín's band and in the mythical group by Rubén Blades, the Seis del Solar. With Marrero it happened that his then bass player, Andy González, left the group to enter the Monguito Santamaria formation, son of Mongo, and then I took his place on the electric bass, though up to that moment I played the guitar. With Marrero I entered the studio for the first time recording for the album «Time» (Fania)and I must say that the experience gained with him was very formative.
You played with many important names poised between salsa and Latin, but we can say that much of your notoriety it is due to collaborations with the "poet of the Salsa", the Panamanian Blades?
I worked with the Latin Jazz Ensemble of Tito Puente together with important artists like Alfredo de La Fé, Jorge Dalto, Patato Valdés; then I played and recorded with the pianist Colombian jazz Edy Martínez. But they are proud of having played a lot and made different arrangements with Rubén Blades, and I am proud that this great singer and composer still interprets my music today. With Rubén I traveled the world, I recorded famous records like "Buscando América", "Seis del Solar", "Escenas", "Agua de Luna", "Son del Solar", "Amor y Control", often also taking care of the arrangements.
When and why your cooperation ended?
You must know that Rubén is always in motion; he believes that it does not exist anything stable or constant, he changes continuously his way of making music, poetry and notes, with different formats, and therefore always look for new artists. Now he is living the big band phase, with which goes around everywhere. We meet little, I happen to see him every now and then, but I owe him so much, because it helped me to develop my music career. It is likely that he is planning to organize for the third time the "Seis del Solar" group, and if so I would be available. However we are talking about a complex character, with transversal interests in art, cinema, music and politics. There are people who say he wants to run for the presidential election in Panama, but to do so he shouldresume residence, while I know that he lives between New York and California, and perhaps also in other places.
Having worked at his side for a long time, what a view you have gained on this figure, in some respects a bit indecipherable, ranging from the actor to the protest singer, from creative talent to an aspiring political leader? Rubén is one of the most influential authors of all the Caribbean and Latin American popular music of the second half of the last century, and in my opinion it should be considered the father of «salsa narrative» with an ability to turn any written text into success.
I agree with everything. Rubén is endowed with an exceptional critical spirit that he still maintains today, so much so that in recent times he has launched heavy criticism against corruption or the grave crises that afflict people like Venezuela, Nicaragua; in short, he does not send othersto say but "sings" to everyone. He has a special way of telling everyday things, facts; he speaks freely and does not stop in front of anyone. He is certainly one of the most original composers, sophisticated and brilliant of the Salsa music.  
In a nutshell, who is the real depository of the salsa and what does it represents to you, this artistic phenomenon?
There have always been controversies between Puerto Ricans and Cubans, the latter indignant because they felt robbed of their music… Salsa is a true artistic and social phenomenon; it is not a rhythm but an open form, capable of incorporating the totality of Latin expressions and of mixing various languages ​​to become a single new identity that characterizes the Latinos of New York and of the Caribbean and South American cities.  
Now you can give us some personal data and tell us about your origins.
My full name is Michael Viñas Arroyo. In my blood there are Cuban and Puerto Rican traces. I was born June 22, 1950 in the Bronx in New York. I grew up there feeding on Caribbean, Cuban and Puerto Rican cultures and therefore I listened mainly Cuban, Puerto Rican and Dominican music. I was very influenced from the Cuban rhythms that fascinated my father, but growing up in the southern Bronx I was always immersed in the multiple sounds of the barrio, a mix of Latin American music, between son, mambo, bolero, plena, tango, jazz, rock & roll etc., and certainly this environment influenced my way to hear and make music. I was talking about my Cuban and Puerto Rican origins because my grandmother, who was from Ponce, Puerto Rico, went to live in Cuba and all his children were born there, including my father, who was born in the area eastern of Cuba. Some then returned to Puerto Rico and finally emigrated to the States. Among other things, having US citizenship, my father was sent to Koreafor military service. My mother instead was a Puerto Rican, from Santurce, a neighborhood of San Juan. 
So you're also a little Cuban. But how many times have you visited it and what music friendships did you make in Cuba?
It will seem strange to you but it is a country that I never visited! My father and my uncles are all born in Cuba and I believe some of our ownrelative still resides on the Isla. I hope to go there as soon as possible with my wife Milka. I met several Cubans musicians living in New York while among those left at home I knew well Juan Formell, Van Van's leader and bass player.
About Formell, how was it with his lyrics Anda Ven y Muévete that Blades raised with Muévete in the historic concert in Puerto Rico in the Nineties, completely changing the words of the amazing Van Van's success?
Rubén was fascinated by Formell's song, but since he is a true poet he decided to rewrite that text to do a chronicle in music of what was happening, not only in Latin America. And if I think about thatwhat happens in the world today I must say that those words seem to be written today. 
It's not like you've got an album in sight in your name? It would be the debut album as a leader, how late!
In fact I always liked to compose and play for others, but I'm thinking of making use of a project with all the material and the compositions made so far, and, God willing, to finally get one out "Mike Viñas production". But the thing that always remains in clear evidence for me is the willingness to write new arrangements and new compositions.
And, if you're not pursued by music commitments, how a day would go like in New York?
Ah, wonderful question! My goal is enjoying the life that remains to me, in the company of my wife, get up every morning, and thank God. If I think that I arrived here after forty-one years of teaching, between New York and New Jersey, and that many of my young students still like to communicate with me… But I am also very happy to be a fresh grandpa of a grandchild and every time I can't wait to go home to see him again, because he represents the future of our family.
Gian Franco Grilli